Happy Mother's Day, everyone! I hope all of the moms had a great day, and I hope all of the kids made sure to thank their moms. I know today can be an emotional day for people (maybe your mom isn't here anymore, or you're struggling to become a mom), but I think everyone has a special lady in their life that deserves to be honored -- and
it feels great to make someone's day
!
I was lucky to be able to e
njoy a wonderful brunch
with my mom, brother, aunt, uncle, and cousin. We went to our favorite place, a little place in Port Washington that serves an amazing buffet of delicious Mediterranean delicacies -- all kinds of salads, couscous, hummus, shish kebab, etc., plus lots of typical brunch type foods like eggs, pancakes, french toast, and bacon. It is pretty amazing, and SO cheap. I love that I can fill up with plate after plate of really healthy, delicious food.
When we're done I'm full, but not uncomfortable
. It is definitely a crowd pleaser!
In honor of Mother's Day, I thought I would share one of my favorite mom memories. It is hard to pick just one -- my mom and I are very close, and
I am pretty sure she is the absolute best mom in the world
. She was a single mom, and only now do I realize how hard that must have been (I think it is hard to take care of a small dog by myself). But
she made it looks SO easy
. She was always warm, loving, and ready to help us with anything we needed at a moment's notice -- homework help, a ride to the mall, a chaperone for a field trip. She worked incredibly hard but never once let on if she was tired, or scared, or stressed. I'm guessing there were many days when she was all of those things.
It was hard to pick just one memory, but in honor of our upcoming Disney trip this one seems fitting:
My mom and I are both Disney fanatics, and we love to be in the parks from early morning until late at night. My brother takes a more measured approach -- he likes his sleep, and at a certain point he decided to leave the early morning touring to us. So on one of our trips,
my mom and I decided to hit Epcot at rope drop
. We set our alarm so we could be at the park in time for the 9am opening and the next morning we got up, quickly got ready, and jumped in the rental car en route to Epcot. I remember feeling sleepy, but we turned up the radio and sang along to goofy songs to try to get ourselves psyched for the park. As we approached the parking tolls, we both noticed that traffic seemed particularly light.
We were excited: you snooze, you lose! We were going to be first in line for everything!
(I should note that this probably happened in 1994 or 1995, so I don't even know why we were so hot to trot to get to Epcot so early -- so we could get the first boat on Living with the Land? An early morning trip on Body Wars? This park didn't really have many blockbuster attractions).
We then pulled into the parking lot and realized something was...wrong. Epcot has a HUGE parking area, and as we drove by empty lot after empty lot, we couldn't understand where everyone was. We parked the car in one of the very first spots, steps to the park entrance and looked at each other -- "what the heck is going on?"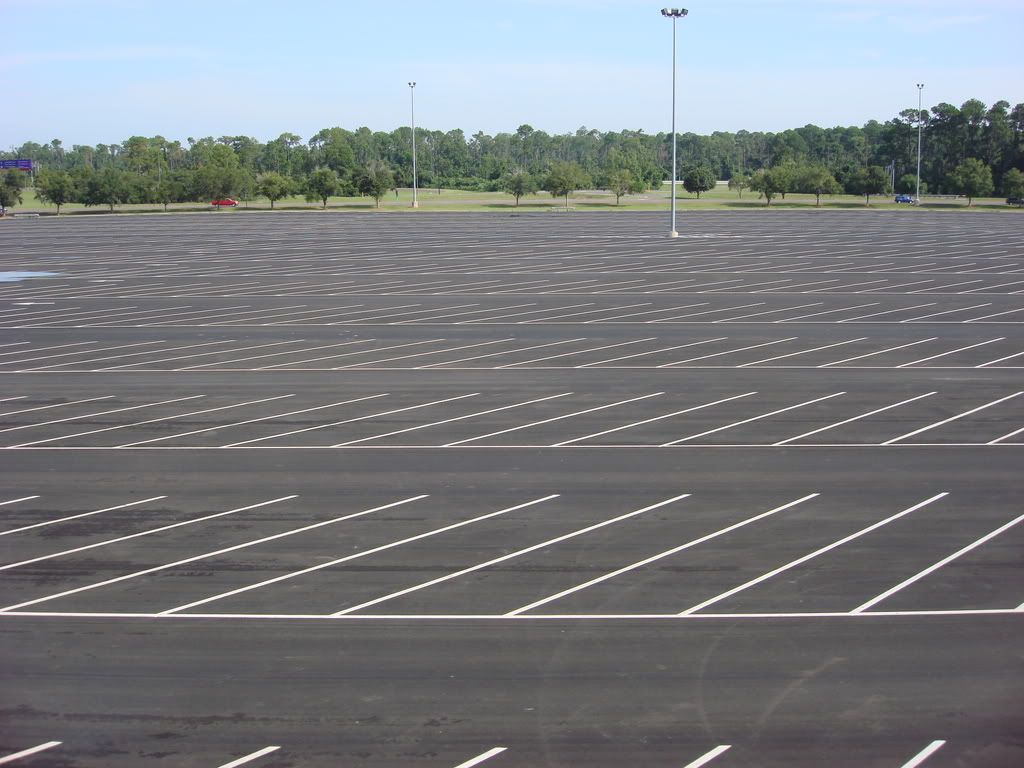 We started to gather our things to get out, and I reached to turn off the radio. When I did, the digital clock popped up.
It was 6:30AM.
SOMEHOW, we both woke up well before the alarm, got ready, and drove 5 miles down the road without having any clue what time it was. We were excited! We really like those Disney parks. When we realized what happened, we laughed hysterically for about 10 minutes. Then reality set in. What were we going to do for the next 2 hours?? I might have gotten a little grouchy.
Luckily, my mom is awesome to hang out with
-- I shouldn't have worried. We sat in the car for a bit and waited to see if any other crazy people would show up (they didn't). We got out and walked around, and ultimately just sat on a bench and chatted. It was probably the only time in my life I had a meaningful conversation with someone before 7am, but it was great! The minutes flew, and before we knew it we were through the gates.
I think my mom and I could have fun anywhere, and I love that
. I wouldn't have planned things to go the way they did, but looking back, I wouldn't have changed a thing.
Love you, mom!